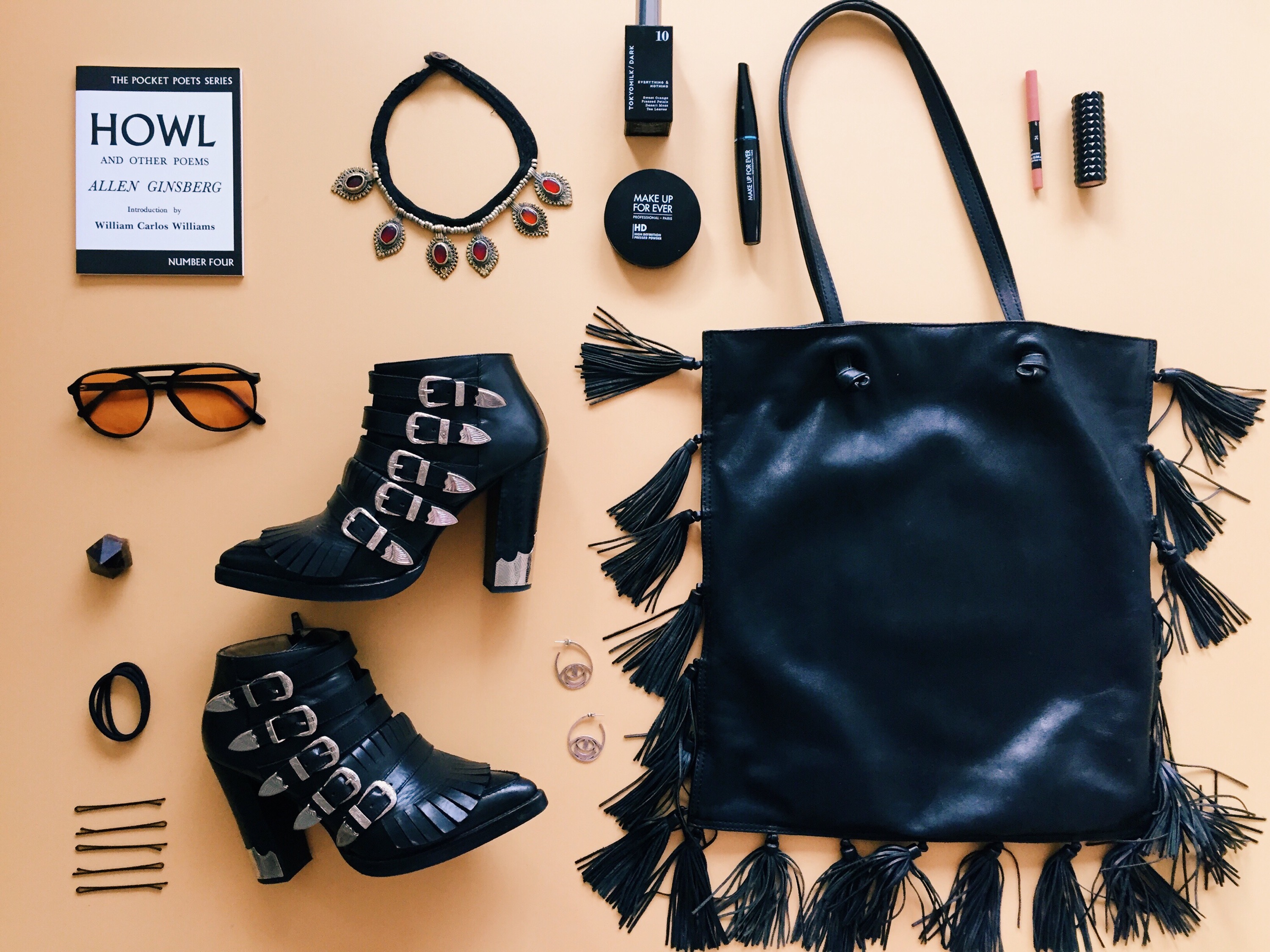 Fall is in full swing in New York. It's that short window of time when all you need is a light jacket, the leaves are falling beautifully and your hair isn't frizzy from Summer's humidity. Not for nothing, fall is kind of amazing. My mood is constantly changing and I'm always on the go, so my favorite carry-all leather tote is always packed with an arsenal of essentials to brighten my day and make it go more smoothly. Right now, I'm into all black – actually, I'm always into all black – it's the New Yorker in me.
Essentials from left going clockwise: Howl by Allen Ginsburg, Pakistani Choker, Tokyo Milk in 24, Make Up For Ever HD Pressed Powder, Waterproof Aqua Lashes, Aqua Lip Liner in 1C, Kat Von D Studded Lip Kiss in Lovecraft, Loeffler Randall Tassle Tote Bag, Free People Hidden Treasure Hoops, Toga Pulla Buckle Booties, Bobby Pins, Ouchless Hair Ties, Smoky Quartz Stone, Wildfox Aviators.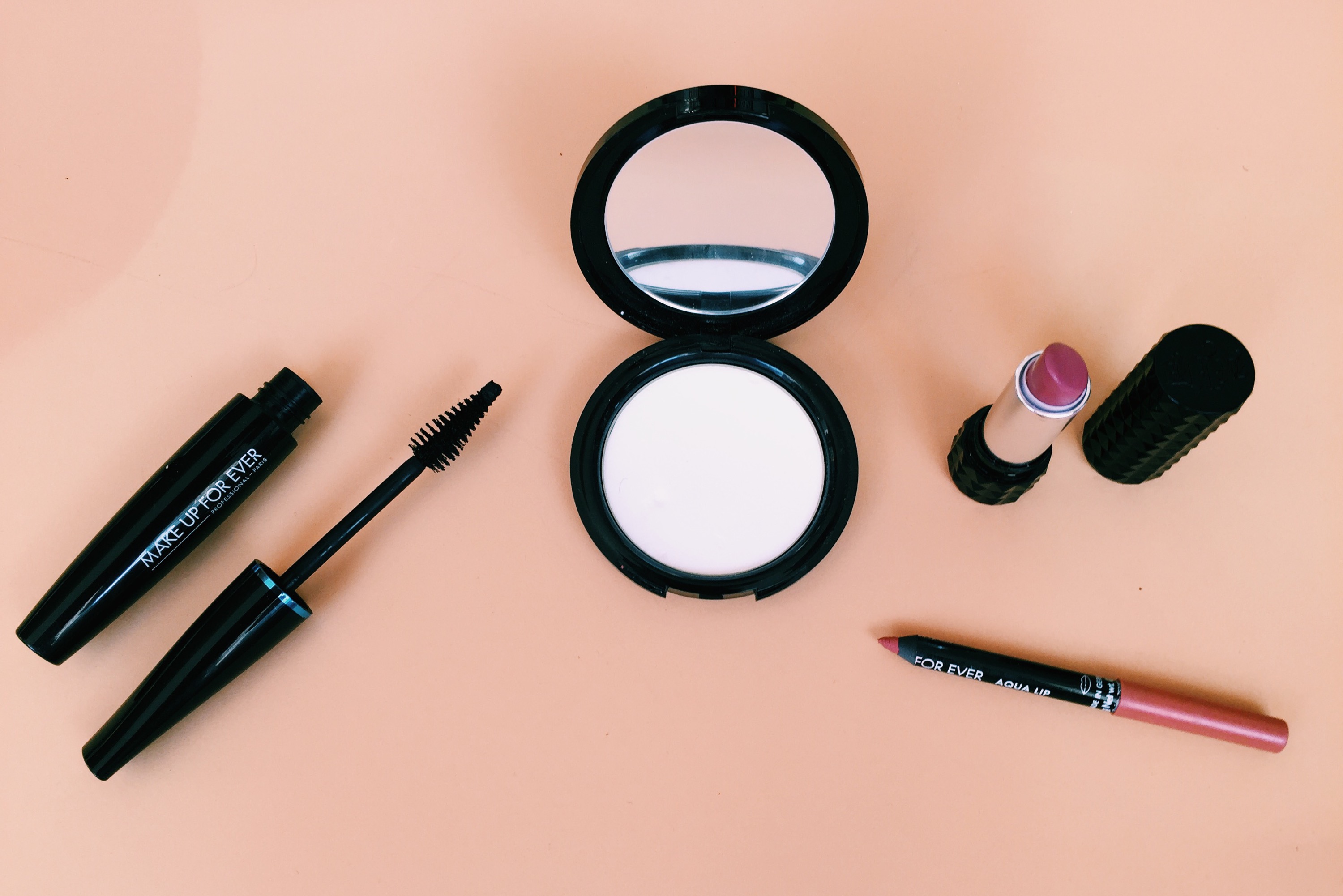 Just shifting through my makeup bag I hadn't realized how many products I carry around with me from Make Up For Ever. I like to keep 4-5 products with me all the time that I know I can use to freshen up my look after a long day. MU4EVER's HD Pressed powder mattifies my skin when it gets a little slick to it by mid day, without making it look dried out. Their Aqua Lip Liner in 1C is my lip's best friend, I use it to fill and line in the entire lip before I add my go-to neutral matte lip from Kat Von D.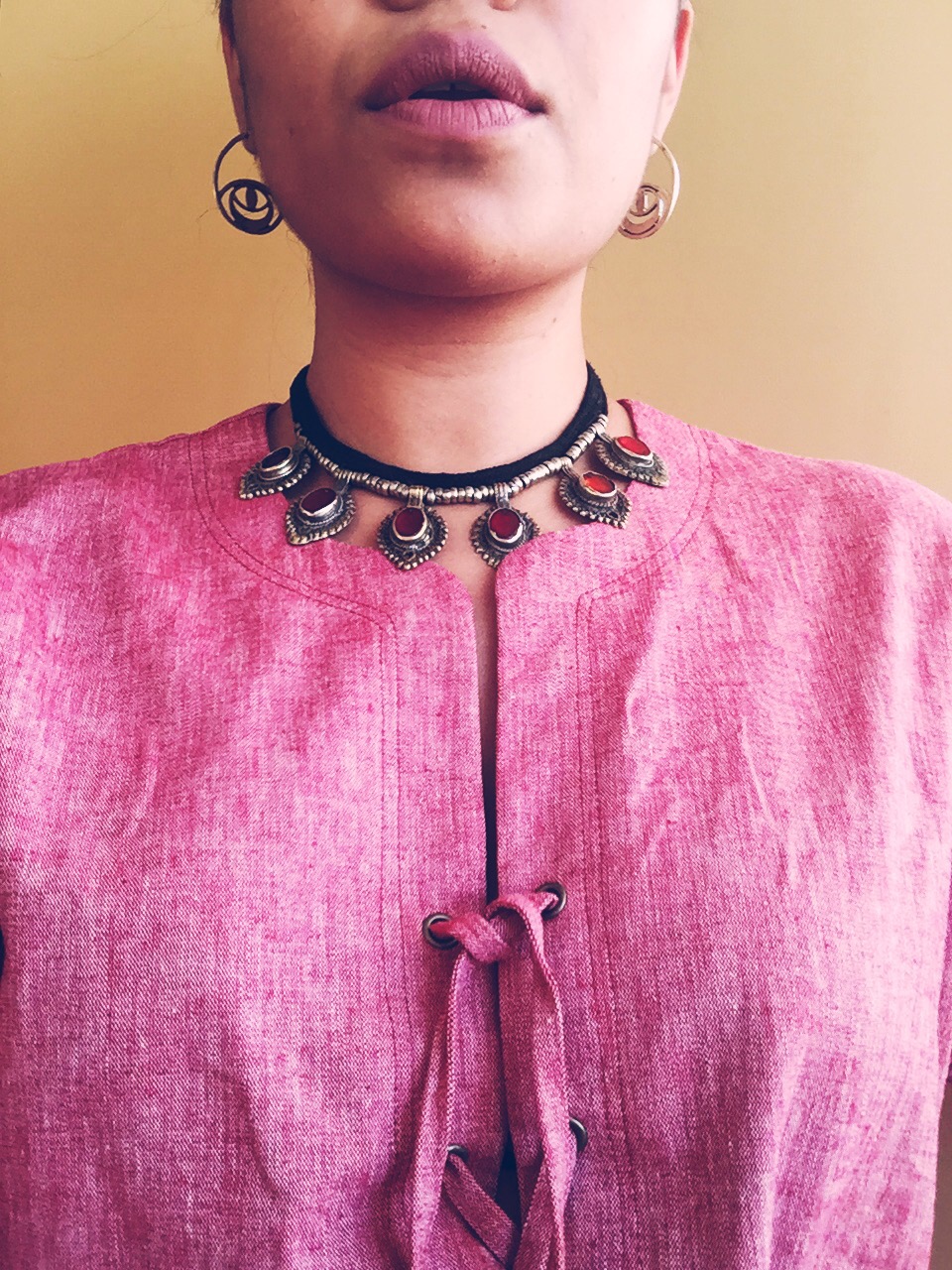 Jewelry is everything to me. I dress pretty simply, especially in the fall months, so I let my accessories do all the talking. I got this necklace from a vendor that sold Pakistani jewelry at an antique show last summer – I barely take it off. I just got this seeing eye earrings from Free People, my earrings always have to be silver and they have to be big enough, so they don't get lost in my big hair. I have to do an updated post on my rings, this is
one
from back in 2013.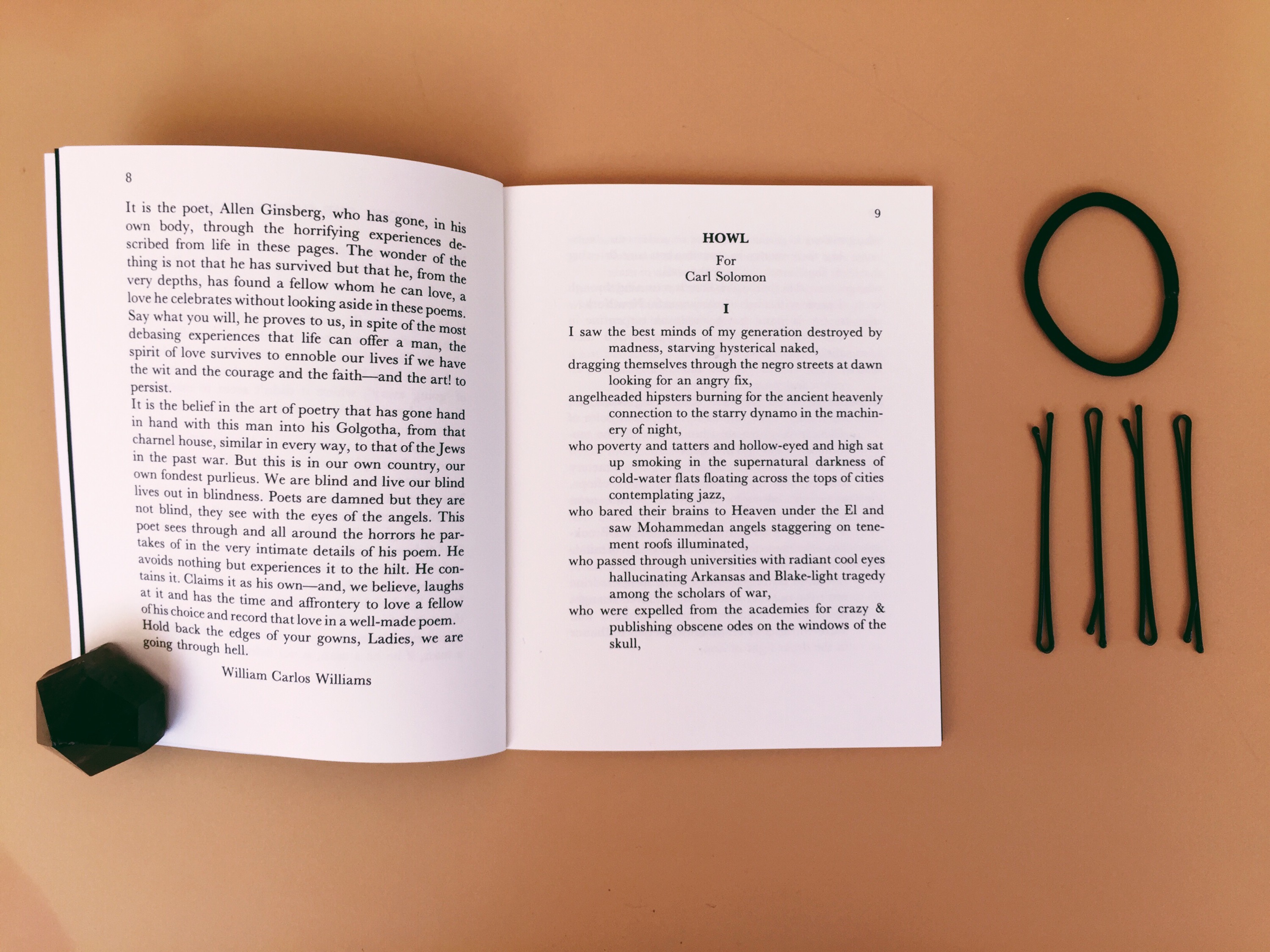 I'm always reading something. I have to keep some sort of book or notebook with at all times. It's usually books on self-transformation or poetry that I'm reading. This one is Allen Ginsburg's classic "Howl".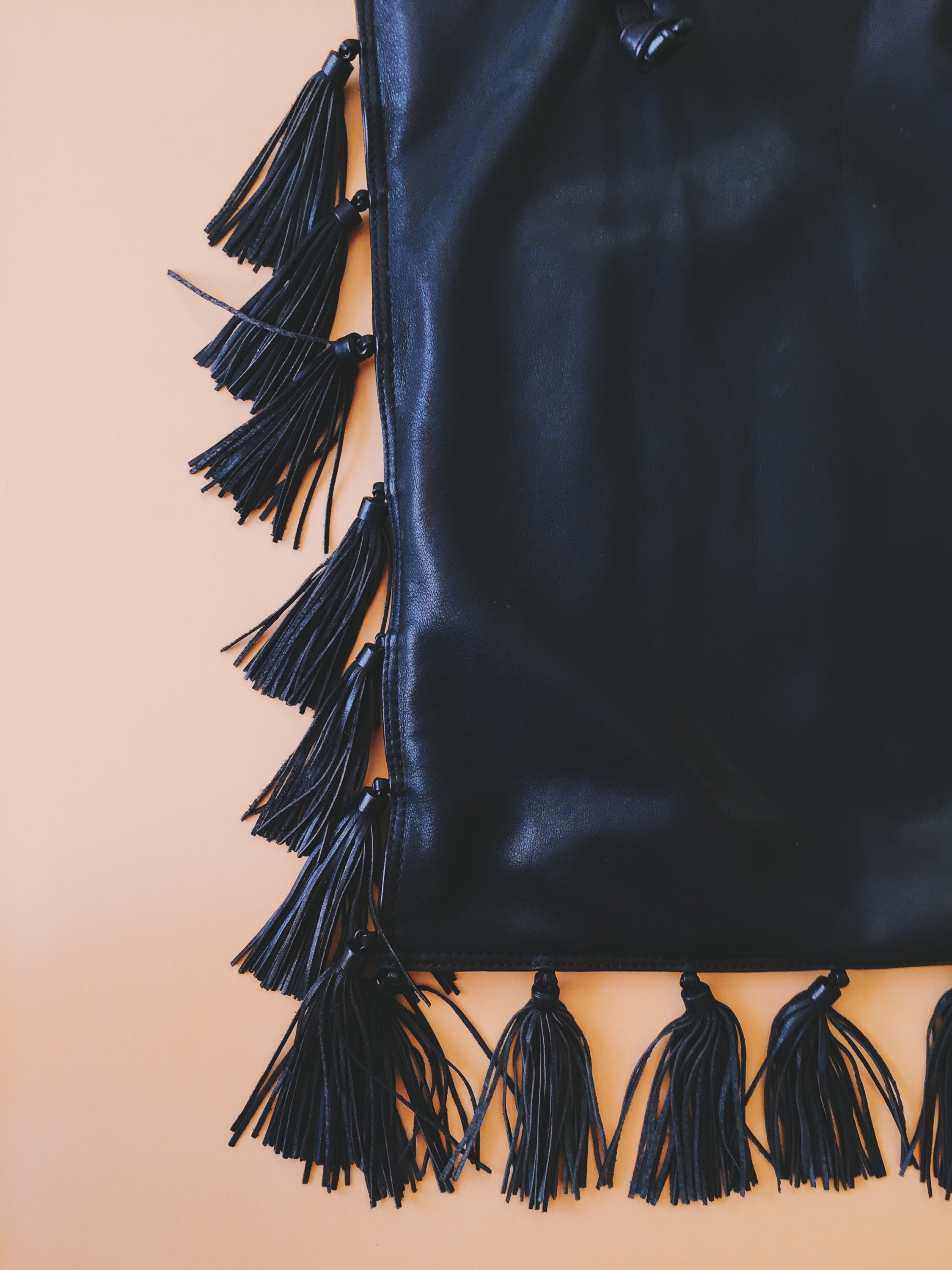 This little detail shot of my baby girl, the fringe darling of my dreams. I got her at the last Shopbop friends and family sale. I can put all my things in her, throw her over my shoulder and go. She has awesome movement when I'm running to a meeting, she creates a great proportion to the clothes I usually wear and she's softer than a baby's bottom.
What are some essentials that you carry in your bag during the fall? Share your favorites in the comments below and shop the Friends and Family Sale going on now at Shopbop to get 25% off using promo code: inthefam25.