Jewelry is my favorite part of dressing up. I can wear the most simple, paired down outfit and feel okay. But once I throw on some great earrings, bracelets and rings – I feel fully dressed, fearless and ready to take on whatever the day has to throw at me.
So when I buy jewelry, I want jewelry for a lifetime – something that's been lived in, has character and stories built into it. Worn in and lovely is my favorite. Through the years, I've shopped at flea markets, vintage shops and oddities stores to get those special pieces that I know are one of a kind. But after all this time, nothing compares to shopping with Nnennaya at Ashione Gallery.
Tucked away in the back of what used to be an indoor antique market on 25th street between 6th and 7th Avenue, is a charming gallery full of African Art: everything from sculptures, to masks, textiles and jewelry.
I've been going to pick out my most prized and precious rings from Ashione for the last six years. I wrote about my ring collection back in 2013, here. They always have something to get me excited and the bond that I've built with Nnennaya, the owner, has been so special. Just being in her company feels like magic.
It had been awhile since I came to visit her, even though we keep in touch via email. I wanted to to do something fun the next time I saw her. So I packed up my tripod in my big fringe bag and headed down to Ashione to take some fun photos of the beautiful jewelry she's carrying.
I was like a kid in a candy store, trying on all of the bangles, bracelets, necklaces and rings that are just so beautiful, they just make my heart skip a beat. A lot of the pieces she gets are from West Africa, she can go on about the history and traditions embedded into all of the pieces that she carries.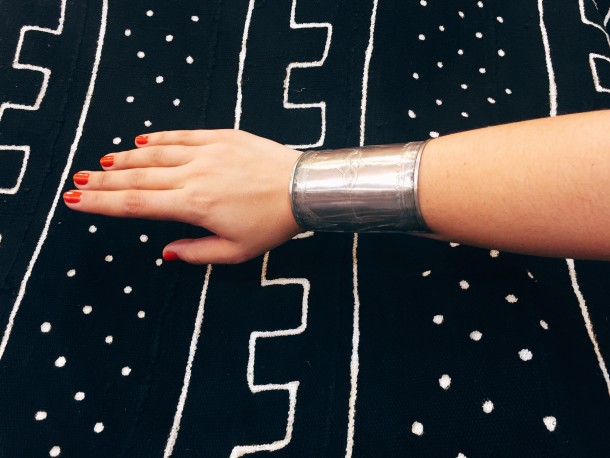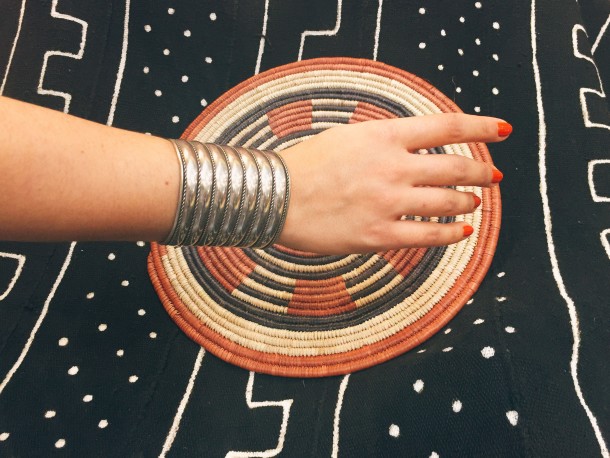 After spending the afternoon at Ashione, I realized why I love jewelry so much. Putting on each piece of jewelry each day for me is almost ceremonial. It's adorning yourself with special piece that not only will protect you while you wear it but will bring you joy from its beauty and it's fine craftsmanship.
There's an ancestral quality that's threaded throughout all of that I wear. It feels mystical, indigenous and specific to how my spirit feels. I would never put anything on if I didn't feel a connection to it. The ceremony of personal adornment is all about meaningful connection. And possibly, my past lives showing up in the physical – whatever it is, my jewelry feels like an extension of me. And I'm happy to know that places as special as Ashione Gallery are around to preserve the rich, deep seeded history of Africa.
Ashione Gallery is having a 50% off sale right now across all of the merchandise in the store. All of the backdrops of the photos seen here are all textiles and mud cloths from countries like Mali, Congo and Nigeria – they're all beautiful and have tons of character.  Ashione's website (here) shows tons of photos of past pieces they've had in stock, so you can get an idea of prices and merchandise. Your best bet is to drop into the shop see/feel first hand the pieces that you'll have in your collection forever.
www.ashionegallery.com
120 West 25th Street, Rear Gallery New York, NY 10001 – between 6th and 7th Avenues
email Nnennaya: africanart@ashionegallery.com or call her at: 2122290899 for store hours