International Women's Day has always been a day of honor and respect for the women that have paved the way for us to stand in our power today. But today, here in 2017, in the midst of political disillusionment in our country & the unbreakable unity of our sisters – things feel different. Stronger and more fierce. There is definitely long ways to go, but we are a united front with equality and passion in our hearts. Today, I am honoring the women that have impacted my life in profound ways & because of them – I will never be the same.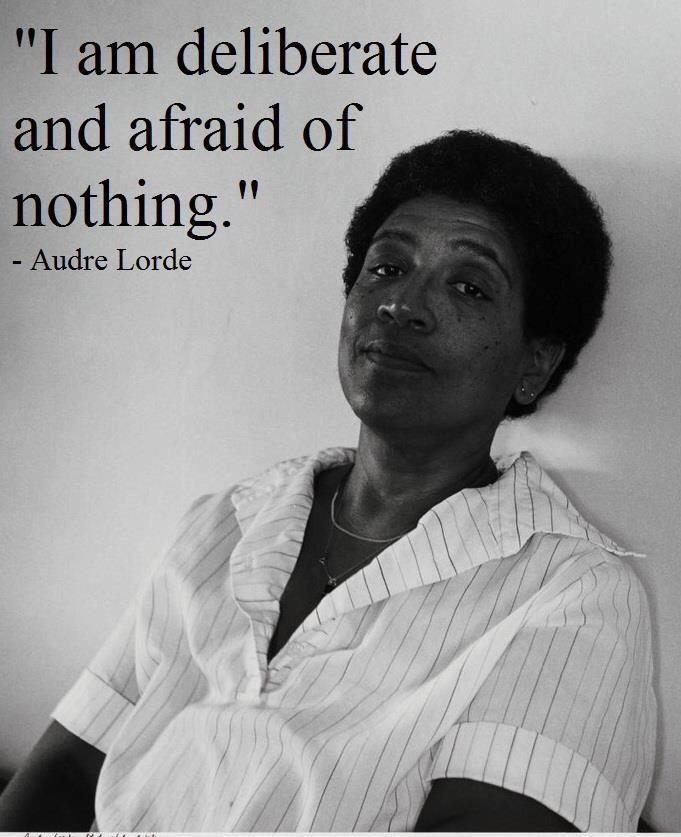 1. Audre Lorde
I have hung countless numbers of your quotes on my walls. Looking up at them while I'm working, feeling shitty or leaving my house, has straighten up my head when I felt like slumping. There is something to be said about a woman that is fearless and doesn't have any problem telling you about it. That power in oneself reverberates to others & when it's affected someone else, they too pass it on creating a domino effect that can not be denied. Audre Lorde's impact on the feminist movement gave voice to the voiceless and power to the powerless. She gave us a new sense of what it meant to be women, crushing gender stereotypes and settling into whatever was authentic for us. My favorite quote from her is: "When I dare to be powerful, to use my strength in the service of my vision, then it becomes less and less important whether I am afraid."
Sister Steinem, I learned much about feminism from you as a teen into my early twenties. You taught me what it meant to disrupt the system, protest and stand up for your sisters. You weren't afraid of being sexy & helped reclaimed back the bodies that men in power sexualized for us in our societies for so many years. You understood how important journalism was. You knew that if you created your own stake within media that would alchemize the power to uplift us all. And on top of it all, you were and still are INTERSECTIONAL with your movement, our movement. It wasn't about some groups of women, it was about all of us. You kept us united after all these years – your voice and your movement has forever lived on with me.
My mama Friducha, the other day someone asked me why I was so enamored with her. I don't remember my response but I recall thinking about exactly what it was that has drawn me to her, as woman and as artist. I admire how much she loved herself. She left behind so many works to show how strong, resilient and unique she was. Even through her own flaws and pain, she consistently made the rules on her own. There was no path before her that she followed, she created her own. I feel connected to that journey of making your own way, of creating something that no one has seen before or even creatively connecting to a space that is only your own. Frida has been a reminder to carve out my own path and never look to others for validation, it always resides within self. And what a magical, vibrant and unwavering expression that can be.
Before women like Janet Mock, Laverne Cox & Hari Nef- I did not know very much about the politics of trans women. These women have helped me understand more. I immediately connected with the tone, purpose and rhetoric of everything that Hari Nef stood for. The first trans model/actress signed to IMG & to have a beauty campaign with L'Oreal. But more important than that, she speaks directly to her generation, she uses her visibility to share her unabashed thoughts and experiences of what it's like to be woman. I've learned from her, laughed with her and cried happy tears about the moves she's made. Especially with her speech at Stonewall Inn. I predominantly feature and highlight women of color across my social media but I find it imperative that we support our allies that are aware of their own privileges and still fight for all of us. This movement of ours, for women and by women, is for all of us.
Mother Maya, you inspired me to write my very first poem, to enter poetry contests as a kid and share my words. Nearly twenty years, later I have not stopped writing and I have not stopped sharing. Your bravery has given me the example to love life even when it has felt dark, damp and ugly. You showed me the joys of being a woman and the power I held in that diamond in between my hips. I've turned to your work and read it aloud to the four walls of my apartment when I have felt my lowest and loneliest. You raised me up and showed me that I can do that for the next woman too. As you were nearing your last days you read a poem on OWN called love liberates that utterly transformed the way that I looked at love and the way I held it in my heart. Even in your last days, you found ways to give me strength, tenderness and perspective. This is how women share their light with each other. It doesn't always have to be about knowing each other personally but by finding pure joy in simply knowing that women like this exist. My connection to you will never be severed, in this life or the next.
She was the first person I saw myself in growing up. Because of her, I spent much of the late 90s #making bootleg Selena music videos in my backyard. J. Lo was the first Puerto Rican pop star that was celebrated all over the mass media and I thought I was super fly because we shared the same last name. For the first time, there was someone that I could relate to on television. She was PR, she was loud and ostentious and you couldn't ignore her. Seeing her on TV interviews, specials and in performances gave me hope of what was possible for myself as a teen because I saw her do it first. Growing up in predominantly all white schools, the conditioning I was fed (in addition to media conditioning) was that women that were blonde haired and blue eyed were superior and more desired than I. That fucked with my self esteem heavily, because I was "not the ideal". I'd always have this thickness and this ass and these curls and these curves. She made me see how fucking Magic all of me was. I still reference her as a point of inspiration because while we are in a way more open mass consciousness and all ethnicities and body types are being celebrated, we still have work to do. The thing is no matter how detached we are from the media, we are still affected by its psychological imprint. So changing said imprint is crucial to me. And really, all I've ever wanted was more girls that looked like me and had similar experiences to tell their stories. And since we have the democracy that is the Internet, in part Jennifer Lopez has greatly inspired me to continue making certain that I have representations of myself, of women like me and my community embedded into the fabric of my creative output.
I grew up the red flags of the National Farm Workers Association hanging proudly around my house in honor of the work my grandfather did for cause. Huelga or strike is what these flags read calling for the boycotting of California Grapes and the unjust conditions and exploitation of workers on these CA farms in the 1960s. Hand in hand with Cesar Chavez, Dolores Huerta co-founded the NFWA. Her lifetime has been spent fighting for labor rights – lobbying for fair wages, safe conditions, insurance, gender discrimination, encouraging Latinas to run for office. There is no Latina like Dolores Huerta who stops at nothing to create impactful change that heavily affects women and the working class. Every time I hear this woman speak, it sends chills up my spine & empathetic tears down my cheeks. As protesting has had a resurgence in popularity in our Trump era, looking to Dolores gives us true understanding of what strikes, protests and boycotts are truly about.
Mother Erykah, you created Baduizm. Without me knowing, years back, you helped lay down the foundation for my path to spiritual enlightenment. You have ascended far long before I even knew what ascension symptoms were. You are an otherworldly light being that has been doing the work for decades, preparing us for the Age of Aquarius we are now entering. You gave us the ground work through your music. Your melodic notes transported us to dimensions that some of us may never get to experience in these physical or ethereal bodies. It's never fantasy with you, as much as your vibration can make us go there, you have always given us the real and raw. Unapologetically black, the flyest and the most high – Mother Erykah your music prepared me for this spiritually based lifestyle of mine in the years when I could not understand who I was. You have held the space for me to be bold, authentic and free. To fuck up, make mistakes and still be able to see. Mother Erykah, you are a gift – so on your cheek, I give you this light charged kiss from these heavenly lips that god gave me.
Have you ever seen the episodes of Broad City where Abbi has a life sized Oprah poster over her bed? Why is that me???? My love for Oprah runs so deep. I've always be deeply interested in media and how when used intentionally can positively effect the viewer or consumer. There will never be another woman in media that will be able to achieve what Oprah achieved. She went from a local news anchor to a nationally syndicated daytime television host that took trashy TV to new heights with programming on mediation, self care and connection to the non-physical world. The bravery and vision this woman had to bring light into people's home landed her as one of the most powerful and richest PEOPLE in the world. Yes, success is great but she leads with purpose and is clearly here doing lightwork. She will always be the consummate example of what it means to turn your passion into purpose with love as your guidance. If you haven't gotten the chance to listen to Making of Oprah podcast, please do. You'll laugh cry and maybe even get a car!