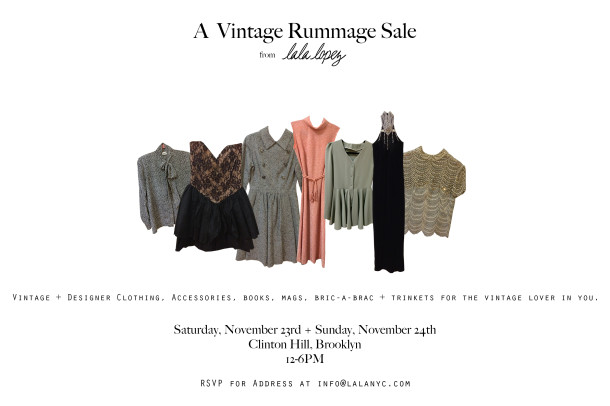 I'm what some would call a mild hoarder. I love finding beloved fashion pieces and keeping them in my stash. While I was a stylist, it came in very handy when I needed pieces to finish a look off with my aesthetic. I've been collecting vintage clothing and accessories for quite a few years now and I'm ready to give some of my pieces a new home. So what better way than to have a vintage rummage sale at my studio/office space. I've spend countless afternoons in vintage stores and flea markets searching for the perfect piece and hopefully you will spend the afternoon with me to make my finds yours.
Since we're in the thick of fall, approaching winter and all the holidays, the majority of the pieces will be for fall and winter but if you happen to be taking a retreat away to somewhere warm for the holidays, I have a few items that may be right up your alley. Find all the info below!
A Vintage Rummage Sale
on
Saturday, November 23rd 12 – 6PM
Sunday, November 24th 12 – 6PM
in
Clinton Hill, Brooklyn
RSVP is essential for the address: info (at) lalanyc.com
What You'll Find:women's vintage and designer clothing, shoes, accessories, hats, jewelry, select magazines, bric-a-brac and trinkets. I have no men's clothing but all you fellas are always welcomed.
Come hang with me, flip through my beloved magazine collection, shop my favorite pieces, shoot the shit, etc. Looking forward to seeing you!