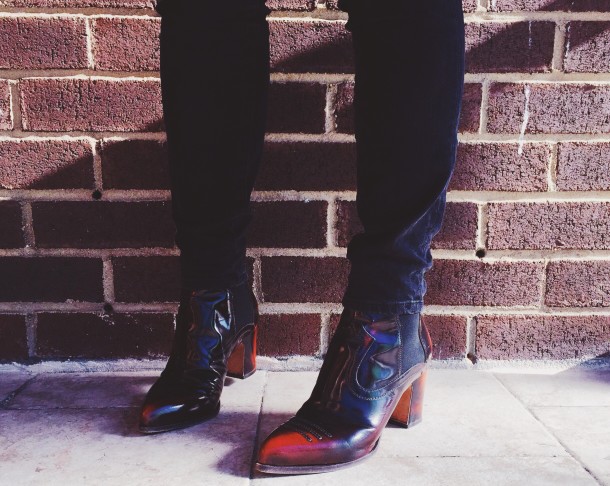 From 18-23 years old, I spent my everyday in a stacked heel – a minimum of four inches at all times – no matter the occasion. I loved the height, the drama. I loved how my body looked and felt with the lift under my feet. But my god, was I tired of trucking my ass around in these painful shoes all day. I don't think there was a particular day or moment but all of a sudden, I found myself in flat oxfords and wingtips and wide/block heels that offered more comfort to my overworked feet.
My sense of style shifted when I decided to change my footwear. I just wanted to feel good, confident and comfortable – that effortless chic that we attribute most French women to have. But for me, it wasn't about the Parisian sensibility – it was about feeling my best without having to try so hard.
So I started to invest in great quality, bad-ass boots from designers whose brand ethos I believed in, first Rick Owens, then Acne, and most recently Church's and Maison Martin Margiela. Yes, the price tag is steeper than the usual item in my closet but if there's anything a woman should invest in her wardrobe, it should be her shoes and her handbags. Plus, I never buy at full retail. (Speaking of which, ShopBop is having a sale going on right now and is where I got the MMM boots pictured above at 60% off.) These bad-ass boots all have a distinct look, too. Strong leather, muted/moody tones, hits right above the ankle and below the calf – and goes with everything.
With the wearing in and molding of these boots to my feet, along the deterioration of it's leather, there, a relationship had formed. After each wear and use, these boots made me feel strong in who I was, no matter what I had on. These boots became an extension of my identity. I didn't have to try to look cool or come off as anything other than as I am.
We don't always pay attention to the conversations that happen between ourselves, our every day and the objects that are present in our lives, but sometimes they give us clues about how we want to treat ourselves. And my collection of boots, no matter what the day or where I'm going give me a sense of purpose and the permission to be unapologetically me.